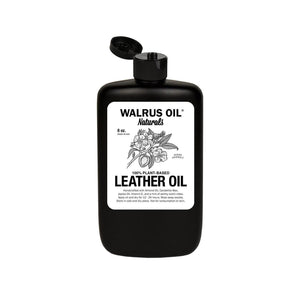 Leather Oil, Balm, & Conditioner - Vegan, 8oz Bottle - Walrus Oil
Walrus Oil Naturals Plant-Based Leather Oil is handcrafted with food-safe Almond Oil, Jojoba Oil, Candelilla Wax, Vitamin E, and a hint of earthy scent - 100% vegan. This balm will bring old boots and leather goods back to life with nourishing plant-based leather oil, it conditions, shines, and adds a little water protection. Works with all types of leather.
Walrus Oil products are Made in USA with only natural ingredients.
Size: 8 oz
---
More from this collection
Makerviews exists to share, to inspire, and to give.
Makerviews creates content - maker blog interviews and articles, podcast, high-quality printed products, and more - that share a variety of maker's processes, journeys, and advice and lessons learned. Makerviews profiles a wide variety of makers and chances are we've connected with someone in the area and far beyond.
Memberships include exclusive members-only pricing + access to leading maker's goods. Plus, members enjoy new deals direct-to-inbox, exclusive pricing on maker's products, a generous rewards program, and much more. Oh yeah, and it's always 100% free! It pays to support makers here - join the club.
---