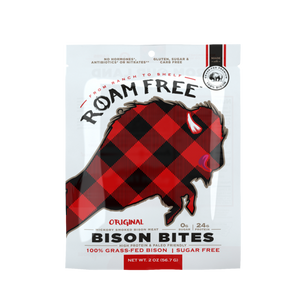 Bison Bites Original - Montana Roam Free Bison
Roam Free Bison Bites - Original is their most popular flavor - blending a traditional mix of pepper and hickory smoke.

Simple Ingredients: 100% grass-fed bison, coconut aminos, organic garlic powder, organic ground pepper, organic onion powder, sea salt, celery juice powder, apple cider vinegar, organic paprika.

By buying bison products you're helping to create a sustainable market. This in turn, allows bison ranchers to invest in growing their herds.
---
More from this collection
Makerviews exists to share, to inspire, and to give.
Makerviews creates content - maker blog interviews and articles, podcast, high-quality printed products, and more - that share a variety of maker's processes, journeys, and advice and lessons learned. Makerviews profiles a wide variety of makers and chances are we've connected with someone in the area and far beyond.
Memberships include exclusive members-only pricing + access to leading maker's goods. Plus, members enjoy new deals direct-to-inbox, exclusive pricing on maker's products, a generous rewards program, and much more. Oh yeah, and it's always 100% free! It pays to support makers here - join the club.
---